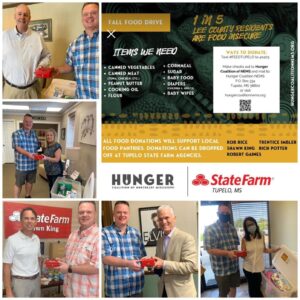 TUPELO • One in five Lee County residents is food insecure. This month, the Hunger Coalition of Northeast Mississippi and a group of local insurance agents is working to change that.
On Tuesday, the Hunger Coalition of Northeast Mississippi kicked off a month-long food drive. The CREATE Foundation special project and United Way community initiative is joining forces with five local State Farm agents to engender food access and raise awareness of the growing need for access to more, and healthier, food throughout the region.
While the kickoff event, held on the rooftop of Park Heights Restaurant in Tupelo, had over 40 attendees, the month-long food drive will be a community-wide effort. State Farm presented a $1,000 check to the Hunger Coalition of NEMS to help jump-start fundraising.
"We want to raise the level of awareness about the true need and the reality of how high the food insecurity rate is in our community, not just in our area but all over the Northeast Mississippi area," said Jason Martin, executive director of the Hunger Coalition of NEMS.
Taking care of an issue that never should have been
Throughout the month of September, the Hunger Coalition and State Farm agents are requesting monetary donations and donations of canned vegetables, canned meat such as chicken and tuna, peanut butter, cooking oil, flour, cornmeal, sugar, baby food, diapers for children and adults, and baby wipes. All donated items must be in date.
"What we're trying to do is sustain this job that we took on a few years ago and really take care of an issue that shouldn't have ever really been," said Scott Reed, CEO of Hardy Reed LLC in Tupelo.
The food drive was the brainchild of State Farm agent Shawn King. Last year, Kind wanted to host an event to raise awareness and collect food to donate. By contacting his customers and partnering with Milam Elementary School, he was able to gather enough donations to fill a room and a half in his office with food.
Martin, however, challenged King to dream even bigger and involve other local State Farm agents.
"We're utilizing this year as another test case of how we bring together the resources of people, so we ask all of you to help get the word out because today is just the beginning," King said.
Participating State Farm agents include Rob Rice, Shawn King, Robert Gaines, Trentice Imbler, and Rich Potter.
"This is a wonderful way to be a part of the community and try to help those who just need a little bit of a hand," Rice said.
Pandemic erases progress in reducing food insecurity
When the Hunger Coalition kicked off in 2016, they were seeing food security rates of nearly 20%. Prior to the pandemic, they were able to help reduce that number by nearly 5%.
The pandemic erased that progress. Today, the projected rate of food insecurity in Lee County is believed to be around 20%, with surrounding counties suspected to be even higher.
Jennifer Lawrence, Glamour Enterprises insurance owner and a dedicated St. Luke Food Pantry volunteer, personally understands the struggles of food insecurity. Growing in Shannon with her mother, aunt, four girls and one boy means Lawrence has vivid memories of the food stamps books her mother had to use at the grocery store, her mom having a garden of vegetables, or receiving a box of food with cheese, powdered milk, powdered eggs, peanut butter, and beans.
"We didn't know that we were living below the poverty level," Lawrence said. "Sometimes, we would go to school hungry because we just didn't have it."
Later in life, Lawrence became a regular volunteer at the St. Luke Food Pantry. She's seen the affects COVID-19 has had on families.
"We've had people come through that line where some were broken, some were hurt, some were even embarrassed," Lawrence said. "I have the easy job … sometimes I pray with them, sometimes I encourage them, but most of all I respect them because we're all God's people."
Food drive is one part of ongoing efforts
The food drive is just one part of the Hunger Coalition's ongoing efforts to increase food access. They continue looking for gaps and have recent projects helping, such as helping A Serving Heart Food Pantry in Verona launch last year.
Today, the pantry averages over 200 people a month. Though the nonprofit runs on its own food pantry, the coalition continues being a consultant.
The Hunger Coalition is seeking places where food security is at its greatest and is working to find new ways to meet those needs.
"We're expecting that we'll be able to go to all of Northeast Mississippi with this particular function next year. That's our hope, that's our goal," Martin said. "We couldn't do what we're doing without the whole community, without United Way, without CREATE . . . together, we can make a difference."