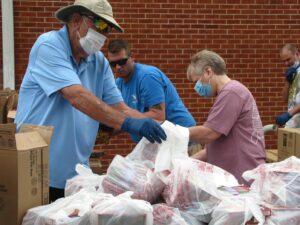 VERONA • A new food bank ministry in Verona plans to feed over 300 households a month until December.
A Serving Heart, a food bank ministry of Grace and Mercy Ministries of Anchor Church in Verona, is a CREATE Foundation project that will host a mobile food pantry once a month to feed residents of Verona. A Serving Heart executive director Larry Reid said the program largely came to be through the efforts of Robbie Gillespie, A Serving Heart program coordinator, men's ministry coordinator and client services director for Grace and Mercy Ministries.
"It didn't just start," said food pantry coordinator Valerie Garner. "Robbie, the face of this program, began to pray for food."
Grace and Mercy Ministries already received a surplus of food from their Transformation Ranch and Transformation Home, ministries for men's and women's addiction recovery, and Gillespie began to pray for food. Excess food was donated to the community, but as time went on, Reid said they had the realization they needed to minister to Verona.
"There are so many hurting people right now due to COVID, due to the economy, due to different things," Reid said. "It's becoming more and more apparent there are areas we need to get into, and as a Serving Heart, we want to come alongside Grace and Mercy and Anchor and help them do some of those things."
Gillespie soon made contact with Jason Martin, executive director of the Tupelo/Lee Hunger Coalition. Martin said he was already working to cover gaps in the Tupelo/Lee Hunger Coaltion's service and trying to find groups that will fill those needs.
"We had an opportunity to get some additional donated produce items and different things, and we were looking for a group that we could share those things that was not already receiving some food, and so I made the connection with Robbie (four, five months ago)," Martin said.
Even before connecting with Gillespie, Martin said he saw a need for a consistent food pantry in Verona. He helped connect A Serving Heart with Mid-South Food Bank and CREATE, and his current role is to be a liaison as A Serving Heart evolves.
The food ministry represents a collaboration between Anchor Church in Verona and First Baptist Church in Corinth. Reid considers it a blessing that the two churches are united, and credits their board members that A Serving Heart can contact people in the area that need to be served.
Food pantry coordinator Valerie Garner said it is through her role as resident director for Transformaton Home that she was able to connect with others in the community. Garner distributed applications to determine eligibility prior to the first distribution on Aug. 22, and both home residents and she went through applications to cut down on distribution time the day of distribution. Their first distribution served 300 people in partnership with Mid-South Food Bank and the Tupelo/Lee Hunger Coalition.
"We have connected with the community and it is thriving. We have had positive reviews concerning the food we're giving away," Garner said.
Volunteers didn't know what to expect during the first distribution, Reid said. He credited Martin for helping them set up lines, manage traffic flow, and Garner's efforts saved work on the day of. They also saw people from other counties attend.
A Serving Heart has 10 board members, a couple of advisory members and 35 to 40 volunteers through Grace and Mercy Ministries. The goal for A Serving Heart is to continue feeding households through once-a-month food pantries until December, after which Reid hopes they can be more hands-on and create a more permanent food pantry, whether mobile or with a brick-and-mortar site.
"Jesus encouraged people to serve. We're not here to be served, but we're here to serve others, and that's what we want to do," Reid said. "We just want to see the community transformed. We just want to offer hope and healing to the people of the community, and our first way of doing that is by offering to feed the body."
Next distribution is Sept. 26, with future dates tentatively occurring on the fourth Saturday of every month with the exception of November, which has no set date yet, and a Dec. 19 distribution. At the next distribution, Reid hopes to also host a clothing closet.
While they have volunteers, Reid welcomes additional volunteers in order to offer shifts. A Serving Heart is working to become a full 501©(3) nonprofit. Reid hopes to see other churches join them, and he invites anyone interested in assisting to contact him at 662-284-6953, Garner at 662-617-1119, Gillespie at 662-791-9077, or by reaching out to Grace and Mercy Ministries at 662-732-5056 or the Tupelo/Lee Hunger Coalition.