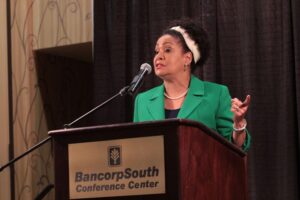 TUPELO – In the face of hunger, it's all hands on deck.
A coalition of local non-profits and food banks have determined to band together, share information and seek to marshal greater resources to alleviate the persistent and pressing problem that many member of the community often do not have enough to eat.
Specifically, the CREATE Foundation's Tupelo/Lee County Community Foundation and the United Way have fostered the creation of the Tupelo/Lee County Hunger Coalition.
This coalition intends to act as as a hub between local food banks, non-profits, churches, schools and government bodies.
"We want to act as a community core that brings everyone together so everyone does better," said Dick White, chairman of the Tupelo/Lee County County Community Foundation.
White warned that despite lots of effort and attention from many different agencies, non-profit, and churches, "there are some big gaps in coverage."
United Way Executive Director Melinda Tidwell underscored the extent of the issue by pointing to U.S. Department of Agriculture statistics indicating that an estimated 19 percent of Lee County residents suffer from some form of food insecurity.
This insecurity often takes the form of a difficult choice between buying food or paying utility bills. It also includes children who may rely on food from schools and face meager meals at home in the evenings or on weekends.
The Tupelo/Lee County Hunger Coalition sponsored its first meeting of involved parties on Thursday morning.
Mike Clayborne, president of the CREATE Foundation, told the group that the Tupelo/Lee County Hunger Coalition can improve collaboration, produce efficiencies and unlock additional resources within the area.
Clayborne said the coalition's goals are to "elevate the understanding of where hunger exists" and to address issues of food distribution and supply among area food pantries.
Thursday's gathering of community and non-profit leaders also heard from Estella Mayhue-Greer, president of the Mid-South Food Bank.
Based in Memphis, the Mid-South Food Bank distributes food to partner agencies and food pantries throughout north Mississippi, west Tennessee and east Arkansas.
She offered encouragement for a collaborative approach.
"Our mission is to change lives by eliminating hunger, but we can't do it alone," said Mayhue-Greer.
It's an approach that Clayborne believes is particularly suited to the Lee County area with its strong history of civic-minded cooperation.
"There's no question that when this community and county puts its mind to something, we'll get it done," he said.